Bangladesh Betar (BB), also known as Radio Bangladesh, is the state-owned national radio broadcasting organization of Bangladesh. In this blog, we will take a journey through the past and present of Bangladesh Betar, exploring its evolution, achievements, challenges, and contributions to the media landscape in Bangladesh. BB has a rich history that dates back to its inception during British colonial rule in the Indian subcontinent. Over the years, Bangladesh Betar has played a significant role in disseminating information, promoting culture and entertainment, and fostering national unity.
The Past and Present Journey of BB
Bangladesh Betar traces its roots to All India Radio (AIR). During British rule, AIR played a crucial role in disseminating news, information, and entertainment to the masses.
The first radio broadcasting station in East Bengal was established in Calcutta (now Kolkata), India, in 1927. This station, named the Indian Broadcasting Company (IBC), was established by the British colonial government to propagate their policies and create public awareness about their activities.
In 1937, All India Radio (AIR) was established, and IBC was merged with it. However, East Bengal remained largely underrepresented in AIR's programming. The people of the region had limited access to quality radio broadcasts. This led to demands for a separate radio broadcasting station for East Bengal.
In response to these demands, the then-British colonial government established a radio station in Dhaka, the capital of East Bengal, in 1939. The station named the Bengal Radio Centre and was in a small building in the old town area of Dhaka.
Initially, the programming of the Bengal Radio Centre was limited to news, weather reports, and entertainment shows in Bengali and English. However, with the partition of India in 1947, East Bengal (which later became East Pakistan and then Bangladesh) became part of Pakistan, and the radio station was renamed Radio Pakistan in 1948.
Past Journey as Radio Pakistan
Under the new name, Radio Pakistan, the station started broadcasting in Urdu in addition to Bengali and English. Its programming also expanded to include educational and cultural shows, as well as music and drama.
However, the cultural and linguistic differences between East and West Pakistan led to discontent among the people of East Bengal. In 1956, the Language Movement erupted in East Pakistan, demanding recognition of Bengali as one of the state languages of Pakistan. The movement eventually led to the creation of an independent Bangladesh in 1971 after a bloody liberation war against Pakistan.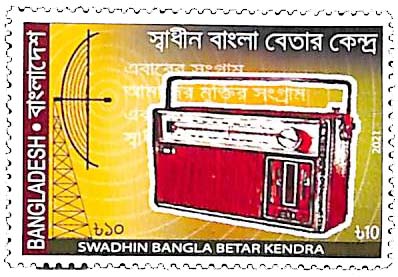 During the liberation war, Bangladesh Betar played a vital role in informing and inspiring the freedom fighters and the general population. Its provided news, updates, and motivational messages, which boosted the morale of the people. It also helped in garnering international support for Bangladesh's cause.
In 1971, when Bangladesh Liberation War broke out, Swadhin Bangla Betar Kendra was established as a clandestine radio station. It provides news, updates, and motivational messages to freedom fighters and the general population.
BB After the Liberation War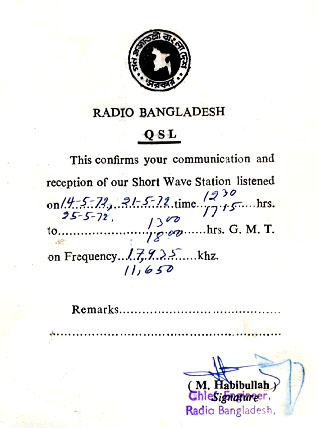 Finally, Bangladesh gained independence from Pakistan following a bloody war. In 1972, Swadhin Bangla Betar Kendra officially renamed Bangladesh Betar and established as the national radio of the newly formed country. The radio station renamed Radio Bangladesh, and its programming geared toward promoting the new nation and its culture. It continued to be the primary source of news, information, and entertainment for the people of Bangladesh. The government of Bangladesh also used Bangladesh Betar as a means to promote national unity, cultural heritage, and social development.

During the 1970s and 1980s, Radio Bangladesh became a powerful tool for the government to disseminate information and propaganda. Its programming focused on promoting the ideology of the ruling party and highlighting its achievements. However, it also played a significant role in promoting Bangladesh's language, literature, music, and culture to the world.
In the 1990s, with the advent of private radio stations, Radio Bangladesh faced increasing competition. To stay relevant, it started broadcasting programs aimed at youth and rural audiences. It also began broadcasting in different dialects of Bengali, as well as other languages spoken in Bangladesh.
Today, Bangladesh Betar has evolved into a modern and vibrant media organization. BB provides a wide range of programs and services to cater to the diverse needs of its listeners. It has a nationwide network of stations. The main headquarters in Dhaka, with regional stations in major cities and community stations in rural areas.
Bangladesh Betar broadcasts a variety of programs, including news, current affairs, and cultural programs. It also airs music, dramas, educational programs, sports coverage, and health awareness campaigns. BB also has programs in different languages, including ethnic minority languages, to cater to the linguistic diversity of the country.
One of the significant achievements of Bangladesh Betar in recent years has been its focus on digital transformation. It has launched a dedicated website and mobile app, which allows listeners to access its programs online and on their mobile devices. This has helped Bangladesh Betar to reach a wider audience, especially the younger generation, who are more digitally savvy.
Moreover, Bangladesh Betar has also actively engaged in social development initiatives, such as raising awareness about health and hygiene, disaster preparedness, women empowerment, and environmental conservation. It has collaborated with various government and non-government organizations to create and broadcast programs that educate and empower the masses.
A Journey with Past and Present Challenges
BB Has a lot of achievements. Despite its achievements, Bangladesh Betar faces several challenges in the present era. One of the significant challenges is the increasing competition from private radio stations. And other forms of media, such as television, print, and digital media. The proliferation of private radio stations has resulted in a more competitive media landscape, making it challenging for Bangladesh Betar to retain its audience and attract advertisers.
Another challenge is the changing media consumption patterns of the younger generation. They are more inclined towards digital and social media platforms. Bangladesh Betar needs to adapt to these changing trends and come up with new ideas.
We are now at the end of this BB: a journey through the past and present. Bangladesh Betar has come a long way since its inception as a radio broadcasting organization in the British colonial era. From its role during the Language Movement and the liberation war to its present-day status as a modern media organization, Bangladesh Betar has played a significant role in disseminating information, promoting culture, and fostering national unity. Despite the challenges it faces in the current media landscape, Bangladesh Betar continues to be a vital source of news, entertainment, and social development initiatives in Bangladesh, serving as a window to the world for millions of listeners across the country.