Voice of Indonesia disclosed Senandung Khatulistiwa 2022, Indonesian Folklore Song Singing Contest 2022. RRI Indonesian Public Broadcasting organized a Song singing contest for foreign listeners worldwide. If you are interested, this post must help you know the contest's details, rules, and regulations. You also need to know the song recipe, which you will find here. As we know, this is a google form-based contest; only one email can submit a single entry.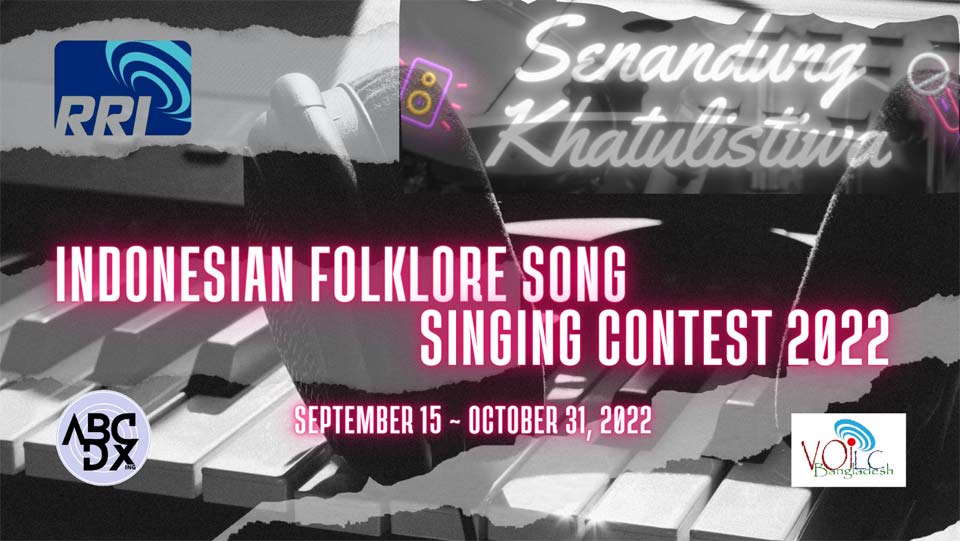 How to participate in the Folklore Song Singing Contest
RRI- the Voice of Indonesia organised this contest through thier web-portal. A Google form-based questioneer also designed for this contest. So, listeners should know the details how to participate in this contest before submitting their entries on google form.
Basic Rules
Participants/Individual performer's must be an adult. (18 years or more). And this contest is only for foreign VOI Listeners. You must sing the selected song of Indonesian Folklore's and it was specified by VOI. Participants must record their performance in MP4 format. Duration of their video not more than Five minutes. No editing are allowed in the video. Please do not add frames or any other design or templates on the video. If you are using any free version of video editing or recording software, be sure to remove the watermars. You also not allowed to add any watermarks inside the video.
Voice of Indonesia shared the song minues on google drive. Participant's needs to chose one song from the drives, and sing it to participate in this contest. Lyric, notation, and chord of the song available on the same drive.
If the particiants sing the selected song with their own instrument, s/he will get addtional points.
VOI have selected following songs for this contest.
-
Terlena
-
Stasium Balapan
Both songs are available on youtube.
How to fill the Folklore Song Singing Contest and upload the video
There are three parts of the said google form for this competition. Participants must use this form for participation. Before going to link for submission the following part will guide the interested ones for smoth uploading. Please note you must submit yuour entry on or before the end of October, 2022.
I. Self Identity
This is the identification part of each participants. But you have to type your email address two times here. One just before the Indenfication another at the end part of the self identity.
Here are the Questions of this section:
- Full Name
- Address
- Nationality
- Email Address
- Phone/WhatsApp Number
Please recheck all the provided information before going to the next page. Be aware, if you clear the form through "clear form" button, all of your information will be deleted.
II. Listener Survey
RRI- the Voice of Indonesia need to know, how long you are with VOI and which programs you are prefer most. You have to answer the following question in this part.
- When was the first time you listened to the Voice of Indonesia?
- Why do you enjoy listenening the Voice of Indonesia?
- Which one of the following, you used to listen VOI?
- Shortwave
- Streaming
- Which program of VOI you prefer most?
III. Upload the video
Here the participants will find the upload link for their video. Using this link Participants can only submit thier entry.
ABC Dxing desire to expand DXing/ Listening radio hobby beyond the boundary.
We always in search of Contest, that offers different international broadcasters.
Finding answers is also a challenge for us. ABC Dxing is pleased to share some clues in the post, so you can identify the solution and easily participate in the contest.